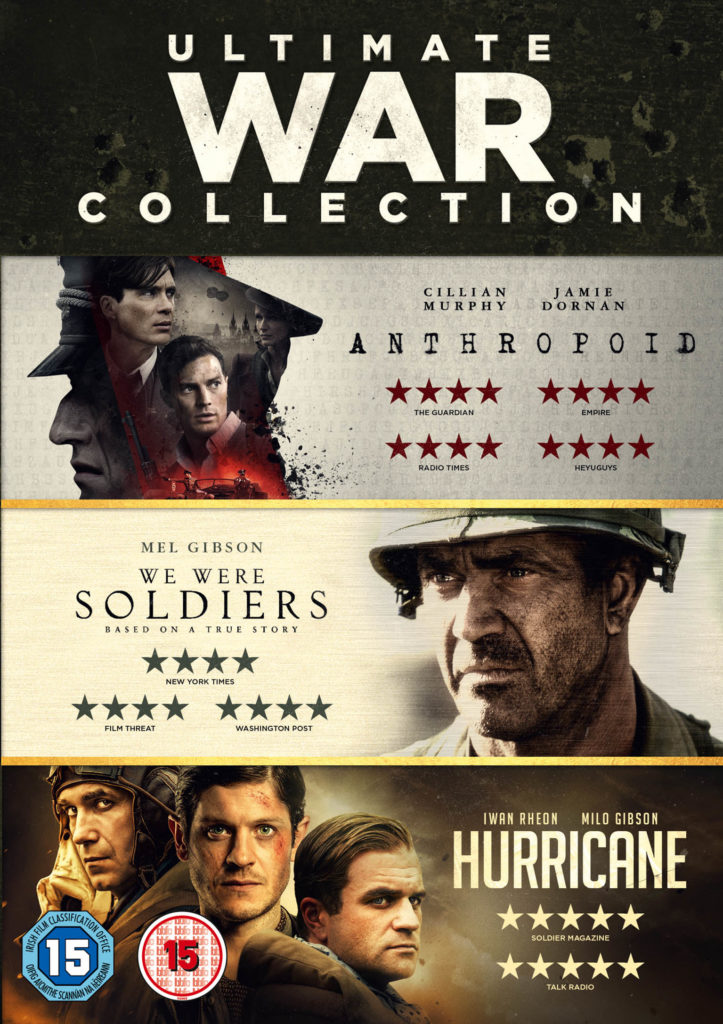 Ultimate War Collection (Triple DVD)
Triple the action: three bestselling war epics! We Were Soldiers, Anthropoid & Hurricane
ANTHROPOID
Anthropoid is based on the extraordinary true story of the 1942 WWII operation to assassinate Nazi commanding officer Reinhard Heydrich. Nicknamed "the butcher of Prague," Heydrich was the Reich's third in command after Hitler and Himmler; the main architect behind the final solution and the leader of Nazi forces in Czechoslovakia.
WE WERE SOLDIERS
We Were Soldiers is a powerful & bloody wat movie based on a true story that moves at a heart-racing ear-shattering pace!
On Sunday November 14, 1965 at 10.48am, Lt. Col. Hal Moore (a magnificent performance by Academy Award® Winner Mel Gibson) and his and his regiment of 400 men touch down at Landing Zone X-ray in the La Drang Valley, a place in Vietnam known as "The Valley of Death". They find themselves surrounded by roughly 2,000 North Vietnamese soldiers and the ensuing battle becomes one of the most savage in US history.
HURRICANE
Based on an astonishing true story, Hurricane tells of the heroic Polish fighter pilots who fought for the freedom of their own country in the skies over Britain, during World War 2. Seen through the eyes of Jan Zumbach, legendary fighter ace and adventurer, it tells how the Poles, driven across Europe by the German war machine, finally made their last stand flying Hurricanes for the RAF, becoming a key component of the legendary 'few'.
Reviews
ANTHROPOID
★★★★-THE GUARDIAN  ★★★★- EMPIRE   ★★★★- RADIO TIMES  ★★★★- HEYUGUYS
WE WERE SOLDIERS
★★★★- REELVIEWS    ★★★★-ROGEREBERT.COM    ★★★★- FILM THREAT   ★★★★ – NEW YORK TIMES
HURRICANE
★★★★★ – SOLDIER MAGAZINE   ★★★★★ – TALK RADIO    ★★★★ – MAIL ON SUNDAY
Director: Randall Wallace, David Blair, Bruce Davey
Cast: Mel Gibson, Jamie Dornan, Cillian Murphy, Iwan Rheon, Keri Russell