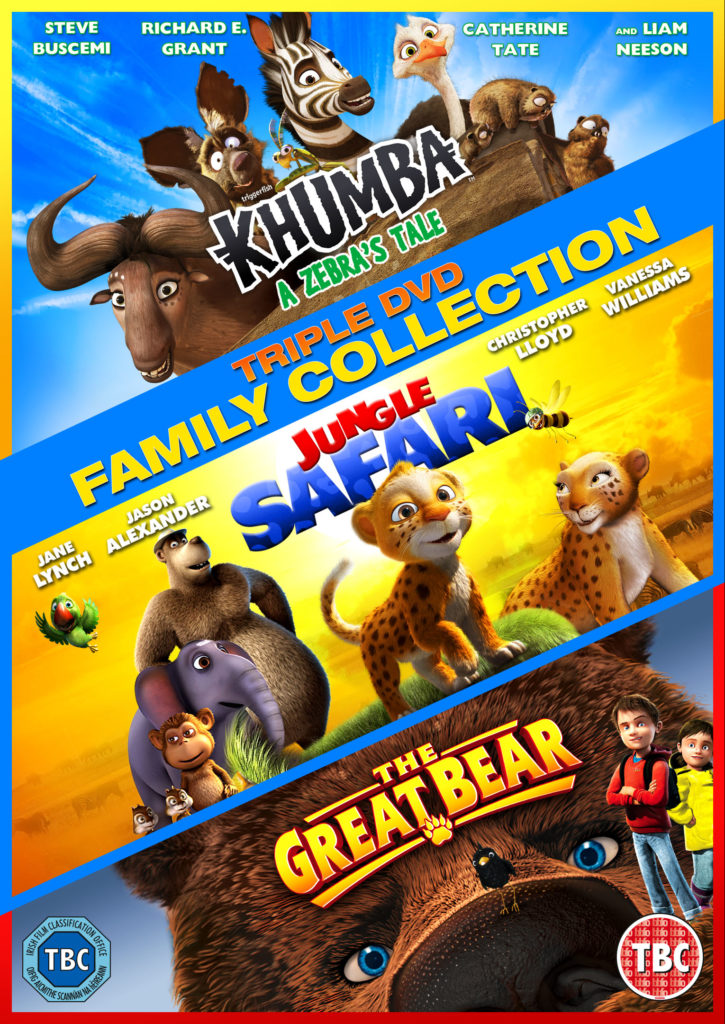 Family Triple Collection (Khumba, Jungle Safari, The Great Bear)
Three fun-filled animated adventures for your little monkeys!
Khumba
Life is not all black and white for Khumba, a young zebra born with only half his stripes. When his superstitious herd blame him for the sudden drought affecting the land, Khumba teams up with a sassy wildebeest and a flamboyant ostrich to find the legendary waterhole where the first zebras got their stripes. On his daring quest across the Great Karoo desert, Khumba meets a host of quirky characters and comes face-to-face with a tyrannical leopard in an epic battle to earn his stripes. Khumba, A Zebra s Tale: a fantastic family adventure with voice talent from Liam Neeson, Catherine Tate, Richard E Grant, Steve Buscemi, Laurence Fishburne, Anna Sophia Robb.
Jungle Safari
The jungle residents of the national park wake up to a bright sunny morning. All is calm, peaceful and serene. That is, until the humans begin to arrive bringing with them their destructive machines and plans to destroy the real jungle and turn it into a concrete one. In an attempt to save their home, a wacky pack of mismatched animals set off on an epic journey to the big city to plead their case to the humans.Will they make it to the city? And even if they do, will anyone listen?
The Great Bear
In this wonderful adventure for the entire family, Jonathan looks forward to summer vacations with his grandfather who lives on the edge of a vast, enchanted forest that he is forbidden to enter. When his sister Sophie, who is tagging along this year, is befriended by a giant bear, Jonathan must venture into the depth of the forest to rescue her and finds a new best friend in the process.
Director: Anthony Silverston, Nikkhil Advani, Esben Toft Jacobsen
Cast: Jake T. Austin, AnnaSophia Robb, Liam Neeson, Cary Elwes, Christopher Lloyd