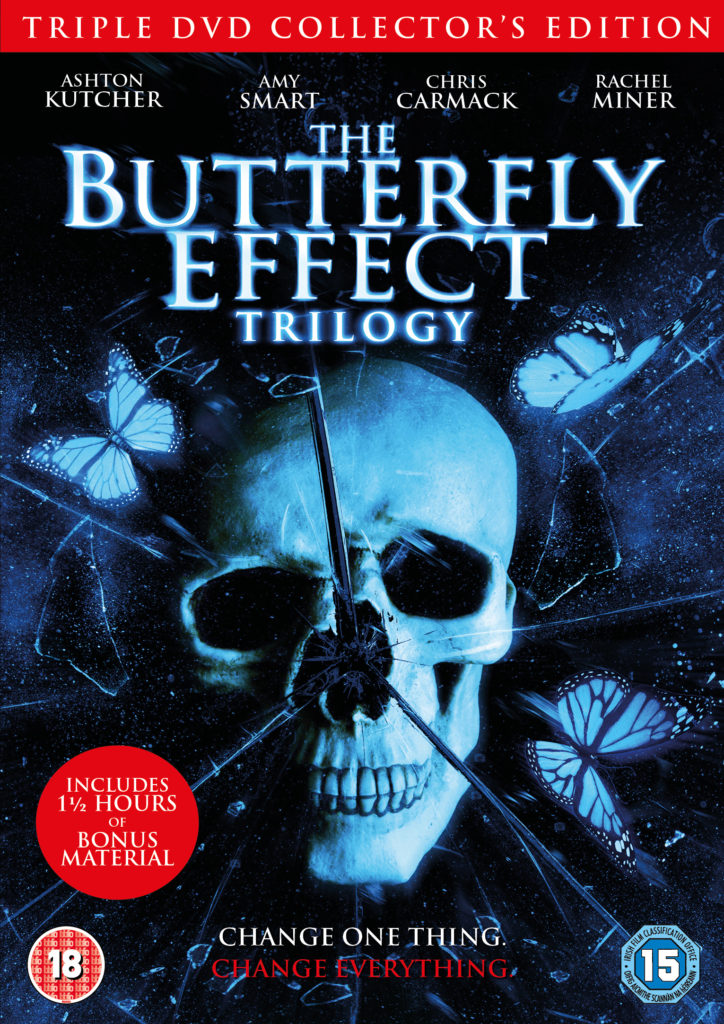 The Butterfly Effect Trilogy
For the first time ever, all three films are presented in one DVD Box Set. Plus 1.5 hours of special features, presented together for the first time.
The Butterfly Effect
Evan Treborn (Ashton Kutcher) has lost crucial moments of his life, his childhood scarred by a series of terrifying events that he can't remember. When Evan realises that by reading his diaries he can unlock the past and go back in time, he tries to reclaim the missing memories by tampering with the past… with disturbing and disastrous results.
The Butterfly Effect 2
This thrilling sequel follows another man with an extraordinary gift; when his girlfriend and two best friends are killed in a tragic accident, Nick discovers that he has the power to change the past via his memories. However his time-travelling attempts to save his one true love have unexpected and dire consequences in the present.
The Butterfly Effect 3
Sam Reide (Chris Carmack) uses his ability to travel back in time helping the police to solve crimes. But when he breaks the rules and starts looking for his girlfriend's murderer he discover that his actions have 'created' a rampant serial killer who didn't exist previously. As the death toll rises, Sam must keep leaping back in time to uncover who the killer is before he claims yet another victim.
Reviews
★★★★ EYE FOR FILM
★★★★ REEL FILM REVIEWS
★★★★ "A written and realized work of brilliance" HORRORNEWS.NET
Director: Eric Bress, J. Mackye Gruber
Producer: A.J. Dix, Chris Bender, Cale Boyter, Anthony Rhulen
Writer: J. Mackye Gruber, Eric Bress
Cast: Ashton Kutcher, Amy Smart, Chris Carmack, Rachel Miner